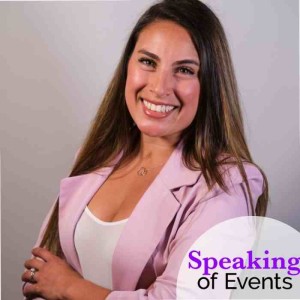 Thursday Sep 22, 2022
Professionally Planned - Daniela Arciniegas - Speaking of Events - Episode # 029
Today's guest knows that each event being put on in the corporate world has a plan or a theme to it, and she aims to take advantage of each and every event. Daniela Arciniegas is the Manager of Corporate Events at The Intersect Group. Daniela joins the host Kerri Garbis to talk and share some of her tips for corporate event planning and how to make them run smoothly.
Takeaways
There is a large business purpose behind having a corporate event. It allows large companies to have people network and gain more knowledge from the people around them.

People tend to stay with the groups they arrived with when they go to an event but it's essential to go around and network. Networking could help you to find a solution to a problem you might be having.

While people at the executive level of a company are usually pretty busy, it's important to come up to them with an elevator pitch and grab their attention before they are gone. 

Younger event professionals tend to be more nervous or shy because of the online schooling they had to go through and losing that touch of human interaction. 

Daniela's favorite part of the event process is seeing how it looks before all the guests arrive. She enjoys seeing something that you visualised come to life. 

The best way to take care of an event professional is to remind them to close their eyes and take a moment to take a few depths breaths to relax and recover from the stress of planning an event.
Quote of the Show
9:07 "Make that elevator pitch align with how you see your growth within the company."
Links
Ways to Tune In:


Speaking of Events is produced by Ringmaster, on a mission to create connections through B2B podcasts. Learn more at https://ringmaster.com/